HUD Annual Financial Statement

CLICK ON BELOW FILE IMAGE TO VIEW HUD AWARD: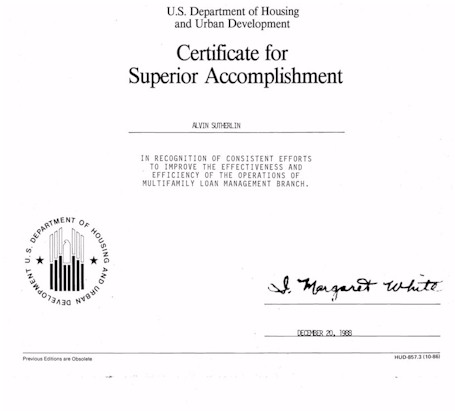 HUD Requires Business Partners, who own a HUD-Insured or Purchasers of related Projects, to submit Audited Annual Financial Statements (AFS) 90-days subsequent to the end of a Projectís Fiscal Year (FY).
HUD allows certain exceptions to this requirement if Project Owners and Projects meet certain criteria.
An Owner should not take this requirement lightly, it is critical that Project Owners meet the 90-day reporting deadline, which could result in HUD subjecting Project Owners to HUD Sanctions or Money Penalties.
If you as a Project Owner have need of assistance in filing AFS contact me and I may be able to assist you.
Alvin L. Sutherlin
Housing Consultant
Post Office Box 162
Mount Rainier, Maryland 20712-0162
Voice Number: 301-277-3465
Overnight Mail:
4104-29th Street
Mount Rainier, Maryland 20712-1820
alvinl.sutherlin@verizon.net
http://hud-consultant.com/aboutus.htm
http://www.hud-consultant.com
http://hud-consultant.com/References.html